The original smash hit bowling game! Get great bowling action without the crowds or the rental shoes.Choose your ball and shoot for the big score solo, or with up to three other bowlers at once. You'll love the great graphics and amazing ball physics. Even allows you to guide the ball as it hurtles toward the pins. A great 'spin' on one of the worlds most popular sports!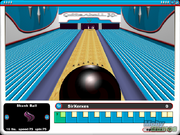 Ad blocker interference detected!
Wikia is a free-to-use site that makes money from advertising. We have a modified experience for viewers using ad blockers

Wikia is not accessible if you've made further modifications. Remove the custom ad blocker rule(s) and the page will load as expected.