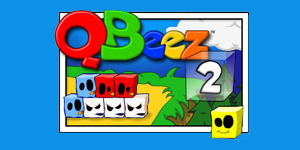 The adorable stars of one of the most addictive puzzle games around are back! And this time, they've brought a few friends! Join the colorful QBeez on Q's Quest where you'll be introduced to twelve all-new puzzle elements, including explosive bombs, buzzing bees, chomping sharks and more. Challenge your matching skills in Classic Mode or bend your brain in Puzzle mode. Even create your own QBeez puzzles in the easy-to-use Puzzle Maker. QBeez together - again!
Bombs 1
Brushes 2
Clowns 3
Hats 4
Sharks 5
Rocks 6
Cannons 7
Kats 8
Rockets 9
Infinits 10
Bees 11
Bulbs 12
Ad blocker interference detected!
Wikia is a free-to-use site that makes money from advertising. We have a modified experience for viewers using ad blockers

Wikia is not accessible if you've made further modifications. Remove the custom ad blocker rule(s) and the page will load as expected.