Bounce to the beat of this musical arcade puzzle game that has all the universe dancing.  The Sveerz cruise the galaxy in their bass powered ship, singing tunes that you must repeat by clicking the little Sveerz. Enjoy 4 unique game modes, 2 player games, rhythm based beat synchs and synthetic voices that say your name! Your eyes, ears and memory are all you need to blast off with these adorable little space cadets.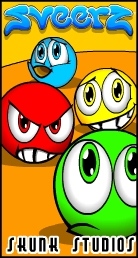 Ad blocker interference detected!
Wikia is a free-to-use site that makes money from advertising. We have a modified experience for viewers using ad blockers

Wikia is not accessible if you've made further modifications. Remove the custom ad blocker rule(s) and the page will load as expected.